Virginia Voices International
Virginia Voices International
"Reach the World" CD
    Virginia Voices International is a volunteer choir that uses the universal language of music to communicate Christ's love. Singing a variety of Broadway, Patriotic and Christian compositions, we touch widely diverse international and domestic audiences. Propelled by a vision to fulfill the great commision, VVI ventures throughout the world singing and serving. Wherever God leads, our commitment is to reach the world with love, one song at a time.
Song List:
1.   Amazing Grace
2.   Broadway Blockbusters
3.   How Great Thou Art with Majesty
4.   You Raise Me Up with Be Still My Soul
5.   Grease
6.   Just A Little Talk With Jesus with What A Friend We Have in Jesus
7.   Holy Ground
8.   Star Spangled Banner
9.   God Bless the USA with America the Beautiful
10.  Reach the World
Below is a multiple song short loop with two of the songs on the CD available now!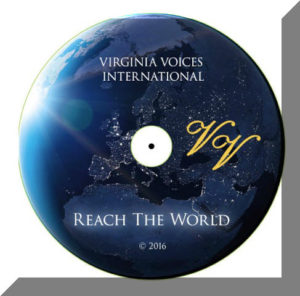 Contact Information:
Virginia Voices International
P.O. Box 8812
Virginia Beach, VA.  23450
E-mail:  vicki2016@cox.net